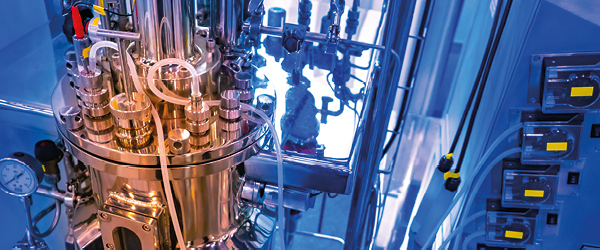 Our Services
> Manufacture of product samples (e.g. fragrances and flavours)
> Design of strains and bioprocess development
> Identification and development of custom-made enzymes
> Efficient synthesis routes by combination of bio-, chemo- and electro-catalysis in co-operation with our electrochemistry / batteries and fuel cells teams

Biotechnological processes are increasingly applied in various industrial branches. They facilitate, for example, the synthesis of "natural" products from renewable resources, the realization of very complex syntheses, and, in many cases, significantly more sustainable processes.

The team "Microbial Biotechnology", an interdisciplinary group of biotechnologists, biologists and engineers, specializes in identifying and optimizing the necessary modules for biotechnological synteses and in developing processes ready for application.
In our state-of-the-art S1 and S2 laboratories we offer the entire spectrum of micro and molecular biological as well as analytical and bioprocess services.
For microbiological test series we apply cultivation systems ranging from the microtiter plate format up to 4 L laboratory bioreactors including various respective online parameter analyses. For enzyme production we normally use E. coli, S. cerevisiae, P. pastoris and A.niger.
For analytical questions we use, next to all photochemical methods, high-throughput HPLC systems (UV/VIS, RID, ELSD, MS-MS) as well as GC systems (FID, MS). For ultrasensitive determination of volatile substances in liquid or solid samples we apply headspace procedures or SPME/SSBE in combination with thermodesorption.
In optimizing efficient and robust enzymatic and microbial production processes, our scientists' decade-long experience with bioprocesses pays off. Using various approaches, we improve, according to the contractor's requirements, space-time yields, catalyst stability, or other parameters.

The manufacture of product samples is a particular offer to companies that require amounts of 1-100 g of the target substance of a process for their tests. In co-operation with the Batteries and Fuel Cells Team we can produce biotechnologically or bio-chemo-catalytically synthesized substances with high purity. Especially for customers in the flavours sector, long-standing expertise as well as dedicated tools such as microorganism strains with reduced production of endogenous fragrances or an olfactory GC-MS port are available.
The team offers research and development especially for those special fields in which its research activities over many years has yielded proprietary knowledge and expertise.

For the identification of hitherto unknown enzymes and entire biosynthesis paths we use various strategies. Besides comparative sequential, operon or genome/transcriptome analyses as well as protein engineering approaches we employ specific screening/selection techniques or biosensor/FACS developments.

In the area of enzymatic and microbial biotransformation we make use of the versatile catalysis portfolio of nature – for example, to realize stereo- and region-selective oxidation or alkylation reactions. We construct and optimize efficient and robust production strains according to the specified target parameters. We develop custom-made solutions also under the requirement of the product declaration as "natural" or "GM-free".
For developing novel production routes we use established raw materials (e.g. glucose) as well as alternative substrates (e.g. methanol, CO2). Our interdisciplinary team of biotechnologists, engineers and biologists gladly takes care of your challenges and provides realistic estimations regarding the potentials of developing custom-made enzymes and biotechnological syntheses.