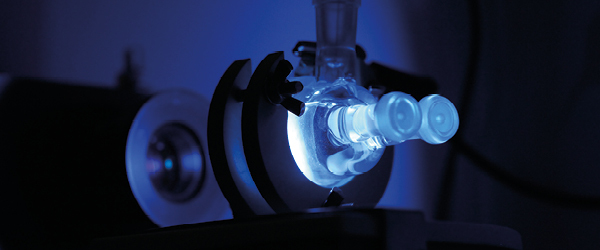 Our Services
> Feasibility studies for novel photocatalytic reactions
> Consulting for scaling of photocatalytic processes and development of according custom-made solutions
> Selection, characterisation and development of suitable and harmonized light sources, photocatalysts, reactors, and optimal process parameters
> Holistic process evaluation, optimisation and consulting
> Investigation of the oxidative properties of photocatalysts for decomposition of undesirable compounds
> Development of novel, more efficient and more selective photocatalysts and of improved coating methods
> Integration of photocatalysis in chemical, electrochemical and biochemical processes

The chemistry industry is currently facing several challenges: On the one hand, international competition is causing high cost pressure, on the other hand there is the need to establish sustainable processes in order to maintain and strengthen innovative capacity. Photocatalysis can provide suitable solutions for these problems.

By using light as an energy source for chemical reactions, photocatalysis provides a basis for sustainable and environmentally-friendly chemical processes. The probably most well-known application uses the strong oxidizing power of photocatalysts such as titanium dioxide for the removal of undesirable pollutants from air, water, or surfaces. But photocatalytic processes have also gained popularity in the field of chemical synthesis. The high redox potentials reached in activated photocatalysts often facilitate very elegant reactions such as direct bond formations without prior activation of the substates.
Due to their mild reaction conditions, photocatalytic reactions are especially suitable for sensitive complex molecules, e.g. in the areas of special or pharmaceutical chemistry. The production of photons can be done emission-free by renewably generated electricity and very efficiently by LED technology. This increases the resource efficiency, minimizes costs, and reduces side products. In addition, process safety is increased, since the reaction can be interrupted instantly by switching the light source off. Meanwhile, the unique reactivity often opens up completely new and more efficient synthesis routes. No wonder that photocatalysis has enormously gained significance as a tool within chemical synthesis in the past years.
Our scientists accompany you in the research field of photocatalysis with fundamental investigations and feasibility studies for new reaction paths as well as with the development, optimization and scaling of technical processes. The latter point in particular is one of the greatest challenges of photocatalysis due to the low penetration depth of light.
We particularly value a holistic consideration of the process and support you with the selection, characterisation and development of suitable and harmonized light sources, photocatalysts, reactors, and optimal process parameters.
DFI, as one of only few research institutions, can rely on its long-standing experience in this field and can offer innovative solutions. For this, our experienced scientists and our modern instrumental equipment are at your disposal.