Photochemistry at Scale: Wireless Light Emitters Drive Sustainability in Process Research & Development
B. O. Burek, H. T. Duong, K. Hochradel, A. Sutor, M. Rupp, E. K. Heilmann, K. Lovis, J. Z. Bloh
Front Cover
Volume 2022, Issue 5, doi:10.1002/ejoc.202200057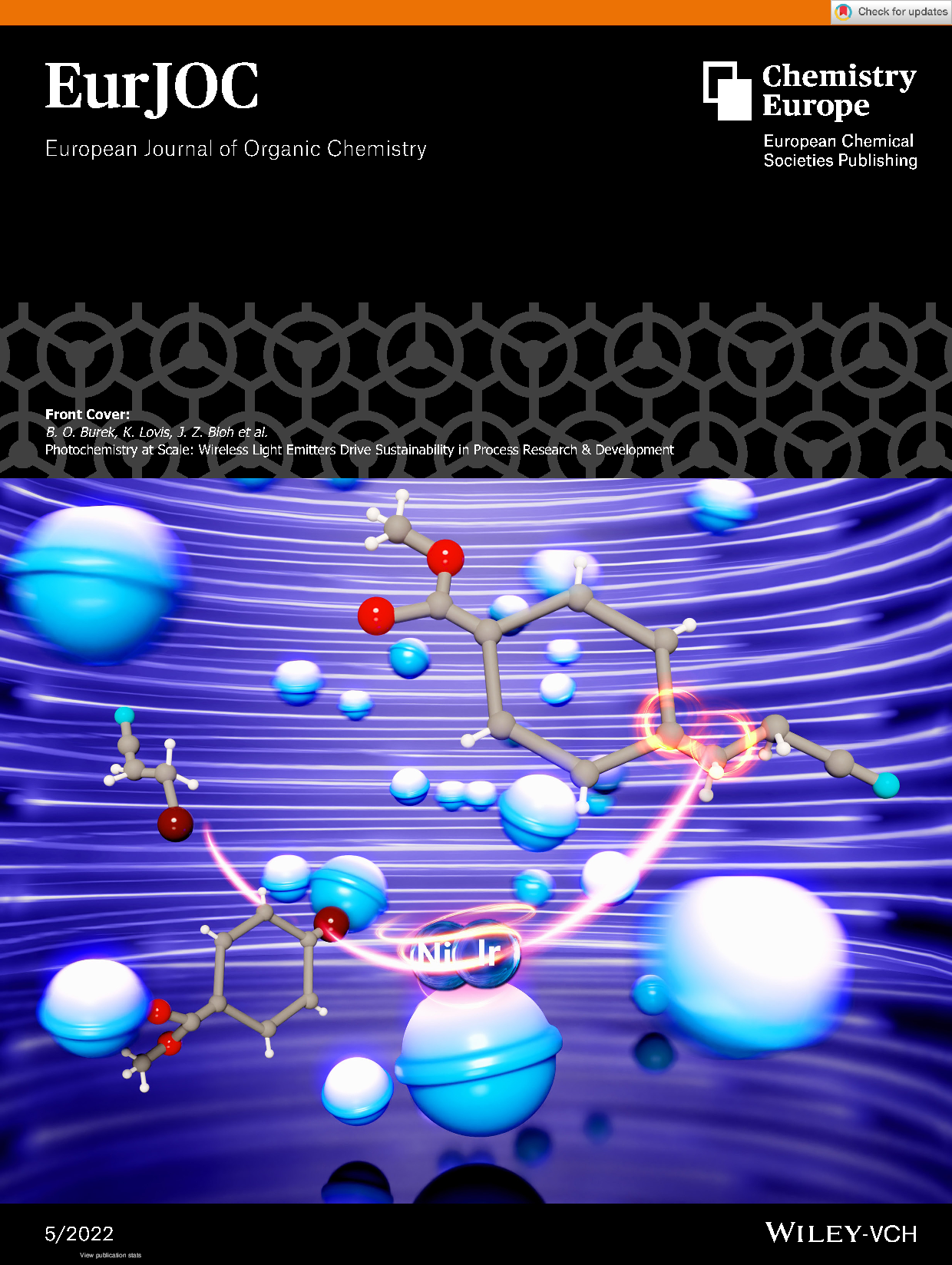 The Front Cover shows free-moving wirelessly-powered light emitters, which can be used to internally illuminate photochemical reactions. This enables easier scalability of reactions like the illustrated photoredox C–C coupling via Ir/Ni dual catalysis. More information can be found in the Communication by B. O. Burek, K. Lovis, J. Z. Bloh et al.
Communication
Eur. J. Org. Chem. (2021), e202101180, doi:10.1002/ejoc.202101180

Abstract
Our study demonstrates a seamless scale-up of photochemical C−C-cross-couplings of aryls and alkyls via dual Ir/Ni photoredox catalysis. The herein described novel type of internal illumination using wirelessly powered LEDs inside the reaction media allows for efficient scaling and intensification of those reactions, maintaining virtually identical reaction profiles over all scales. The system is readily applicable to other light-driven reactions as well.
© 2021 The Authors. European Journal of Organic Chemistry published by Wiley-VCH GmbHThis is an open access article under the terms of the
Creative Commons Attribution
License, which permits use, distribution and reproduction in any medium, provided the original work is properly cited.