(Bio)- corrosion and conventional protection systems like organic, inorganic and metallic coatings (phosphating, chromatizing and zinc coating) or addition of biocides as sanction against MIC are regulated by EC-directives and some have to be replaced in medium term.
→ Environmental-friendly, biogenic corrosion protection: EPS and EPS-analogues
Microbial biofilms and bacterial extracellular polymeric substances (EPS) can induce and speed up corrosion (microbially influenced corrosion, MIC) or even inhibit corrosion processes (microbially influenced corrosion inhibition, MICI). Both effects are influenced by interactions of the substratum and particularly of the EPS. The chemical composition of EPS decides about the destructive or protective impact and the respective extent.
Scientific findings of former projects:
Protective effect and adsorption of EPS probably due to their functional groups (e. g. carboxylic, glucuronic acid)
Hindering of positive chemotaxis and reduction of biofilm formation by chelation of dissolution products (iron ions)
Blocking of electrochemically active regions (anodes, cathodes) via covalent bonds
Aim of this project:
Suppress biofilm formation or blockade selective reactive sites of material by biogenic substances and / or industrial analogues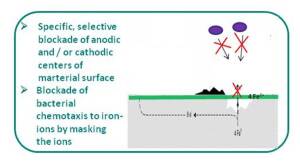 Application of EPS analogues: Cyclodextrine
synthesizable
specifically modified (functional groups, fluorescent dye, ring size, molecular weight)
Application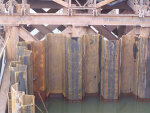 (Bio)- corrosion of iron and steels in aqueous media and water-bearing systems
Contribution to the economy

natural. renewable raw materials
environmental protection
reduction of operating costs